Marian Gaborik is the prototypical offensive dynamo. He has blazing speed, soft hands, size, vision, and a quick trigger on his shot. His talent warrants him being a superstar, but his career numbers suggest otherwise.
Over the course of his career Gaborik has only averaged 55 points a season and has averaged 60 points in his past five seasons; hardly superstar numbers. His low career average is entirely attributed to the fact that he has missed 149 games to injury (not including this season) which is just a touch above missing 18% of games for his career. Last season's 42 goal performance gave Rangers fans hope that maybe Gaborik has finally overcome his injury woes. But in reality, nothing has changed. He is still the same injury prone player who cannot be counted on to play a full season.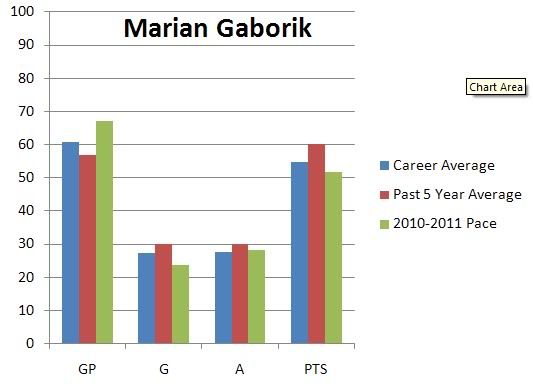 What is disconcerting about Gaborik this season is that in addition to missing a little over a month with a separated shoulder, he has struggled immensely in the majority of the games he has played. Gaborik's  M.O has always been that although he misses plenty of games, when he is in the lineup he's an unstoppable force. It's not to say Gaborik hasn't struggled at times in his career, but he certainly hasn't struggled to the point where he has only scored in seven games halfway through a season.
Two summers ago when Glen Sather managed to pull a rabbit out of a hat and ship Scott Gomez and his albatross contract to Montreal, Rangers fans rejoiced. The next day, he signed Marian Gaborik to a 5 year $37.5 million contract. Sather had managed to essentially swap one of the worst contracts in the NHL for the bona-fide sniper the Rangers lacked since Jaromir Jagr jetted for the KHL.
However nothing has really changed.
More after the jump.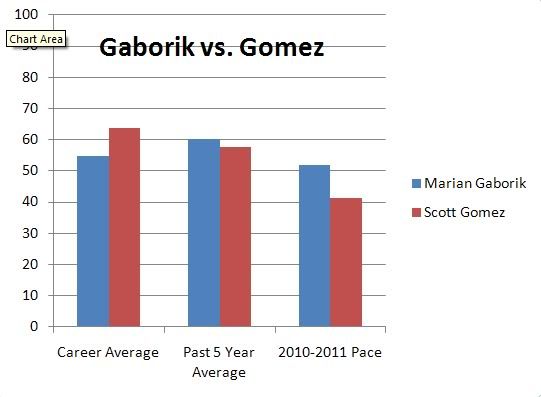 This isn't to say that Gomez is anywhere near the caliber of player that Gaborik is. Gaborik is in a different stratosphere in terms of talent and ability. But Gomez's average point totals over the course of his career and in the past five seasons are essentially the same as Gaborik's. Gomez has averaged 64 points per season over the course of his career and has averaged 58 points in his last five seasons. This is due to the fact that Gomez plays on average 78 games per season whereas Gaborik only averages 67 games per season.  Over the course of their careers, Gomez averages .65 points per game while Gaborik averages .90 points per game.
It goes without saying that Gaborik is the better player, but in the grand scheme of things what's the difference? Even though Gaborik is a game breaker when he is healthy, the Rangers are still committing roughly 12% of their cap space for around a 60 point player.
Past performances are indicative of what to expect in the future Especially when considering players who have already established their careers. Despite his struggles this season, it can be expected that Gaborik will break his slump. He's far too good to continue to struggle scoring. But when his five year contract expires, don't expect him to have averaged much more than 60 points a season. Any day of the week I'd choose Gaborik over Gomez, but I do realize that in the big picture, he isn't as much of an upgrade as many Rangers fans thought.